The 2nd World Conference on Sheep was held in Nanjing, Jiangsu Province from October 15th to 18th. The conference was organized by Nanjing Agricultural University, China and Xinjiang Academy of Agricultural and Reclamation Science, SKLS, China. The theme of the conference is "Sheep Functional Genomics and Healthy Breeding". The conference brought together nearly 400 experts, scholars, students and entrepreneurs including 63 foreign guests from more than 10 countries and regions including Australia, Canada, New Zealand, Finland and Russia.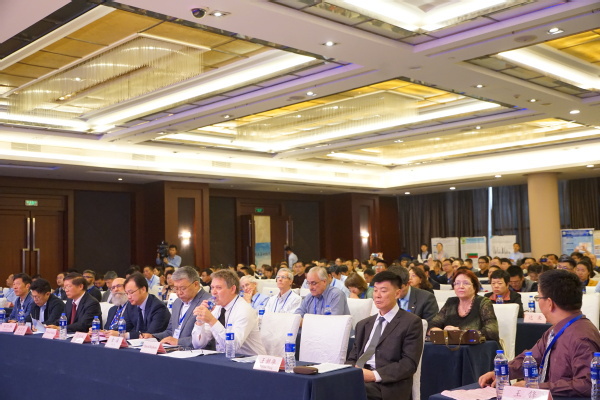 Yan Xianglin, Vice President of our University, Jin Hai, Chief Scientist of the National Meat Sheep Industrial Technology System, Jiang Xuezhong, Director of the Science and Education Department of Jiangsu Provincial Agricultural Committee, Li Menghua, Research Scientist of the Institute of Zoology, Chinese Academy of Sciences, China, Professor Graeme Martin of the University of Western Australia, and Wang Xinhua, former Dean of the Xinjiang Academy of Agricultural Sciences, delivered speeches.
On behalf of the school, Yan Xianglin expressed warm welcome to all experts and scholars. He introduced the development of the discipline of our school and the progress of the research on mutton sheep in our school in recent years. He also said that the conference promotes scientific research cooperation in related fields, enhances the international influence of the animal husbandry of our school. This will promote the in-depth exchanges between researchers from countries and regions along the "Belt and Road", which will have a positive impact.
This conference is divided into English academic reports and the Meat Sheep Summit Forum. 71 domestic and foreign experts and young scholars have reported and exchanged the latest research progress and achievements in the fields of sheep and goat breeding, functional genomics and molecular-assisted breeding, reproductive physiology and technology, nutrition and feed, disease control, and meat quality control. Many national system post experts led by Jin hai and the chief experts of the brother provinces introduced the research status and important progress of the development of Chinese sheep. The reports of Professor Graeme Martin, editor-in-chief of Reproductive, Fertility and Development, Professor David Hopkins, editor-in-chief of Meat Magazine, and Professor David Coltman, were popular.
The conference received a total of 107 English abstracts, 33 posters, and selected 16 San sheng Cup excellent papers. The famous magazine Frontiers in Genetics (IF: 4.151) specially set up a Research Topic column for the conference to publish conference papers.
Chen Jie, Director of the International Cooperation and Exchange Division of our school, Liu Honglin, President of the College of Animal Science and Technology, and Mao Shengyong and Zhang Yanli, Vice Presidents of the College of Animal Science and Technology attended the conference.