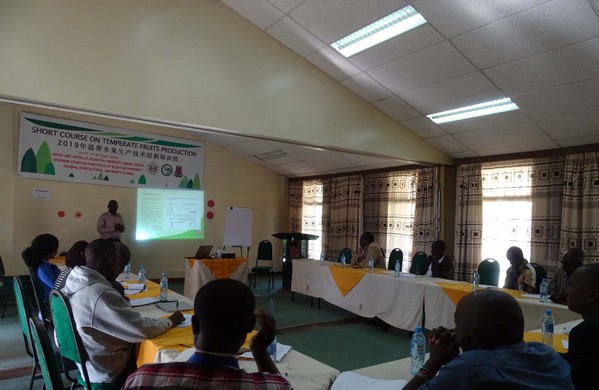 Participants follow a presentation by Dr Arnold Opiyo, a senior lecturer of agriculture at Egerton University, during a short course
on temperate fruit production under tropical conditions, held at Egerton University in Kenya's Nakuru county on July 5, 2019. [Photo by Edith Mutethya/for China Daily]
Despite Kenya's location in the tropics, it's possible to produce high yields there of temperate trees bearing fruit -- such as apples, pears, peaches, plums and grapes -- if the right technologies and cultivars are used, according to Tao Jianmin, professor of grape planting and breeding at Nanjing Agricultural University.
Tao said the Kenyan climatic conditions, characterized by rainy and dry seasons, are similar to those of Yunnan province, which is currently the highest producer of grapes in China. He said grapes should be grown in greenhouses to safeguard against diseases and pests, especially during the rainy season. This also ensures two harvests per year.
I'm willing to partner with local farmers and bring a certain type of cultivar that I bred. It produces bigger-sized and sweeter grapes, he said.
One of the key reasons behind poor development of temperate fruit trees in tropical regions is the lack of a sufficiently cold period to break the trees' dormancy period. Naturally low temperatures, below 7 C, and low light irradiation are required for breaking dormancy.
According to Tao, these challenges can be overcome through breeding fruit cultivars which have low winter chilling requirements and through use of chemicals like hydrogen cyanamide.
Use of the chemical has played a key role in enabling Yunnan province to increase its grape yields. The chemical can also be used in apples, he said.
Tao gave the remarks during an interview at the conclusion of a one-week course on temperate fruit production under tropical conditions held at Egerton University in Kenya's Nakuru county. The participants, who included academic staff of local universities, farmers and agricultural extension officers, affirmed that they had acquired vital knowledge on the production of temperate fruit trees.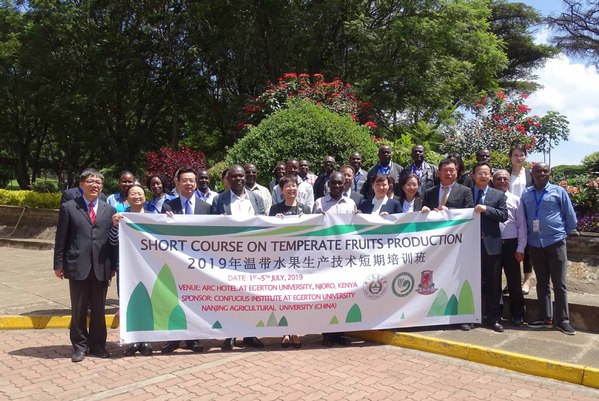 Nanjing Agricultural University staff members take a photo with participants and other invited guests, after the conclusion of a short course on temperate fruit production
under tropical conditions held at Egerton University in Kenya's Nakuru county on July 5, 2019. [Photo by Edith Mutethya/for China Daily]
They admitted that the Chinese experience shared by Tao as well as best practices in other parts of the world opened their eyes to the untapped potential for temperate fruit tree production in the country. Participants expressed a need for the 47 county governments to employ more extension officers who should also receive regular training on the latest developments in the sector and transfer the same to farmers.
Hope Maina, a supervisor for the vineyard at Kenya Nuts Company, said the insights shared by Tao on grape production will greatly benefit her company, which has been growing the fruit for the last 25 years on a 56-acre farm.
It was a pleasure to learn that cultivating grapes in a greenhouse yields more, controls pests and diseases, and the harvest is twice per year. I also learned that we can use hormones that induce and break dormancy, she said. Maina cited the availability of irrigation water as one of the key requirements in growing grapes. She added that sensitization is important to farmers wishing to venture into grape farming, so they understand where to get the seedlings and find a market for their produce.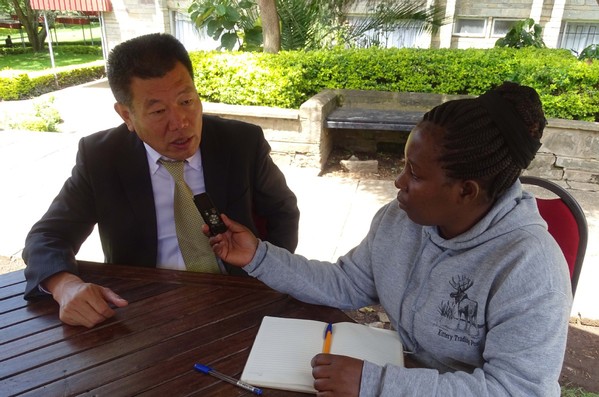 Tao Jianmin (left), professor of grape planting and breeding at Nanjing Agricultural University,
during an interview with China Daily staff on July 5, 2019. [Photo by Edith Mutethya/for China Daily]
Stephen Opiyo, a staff member at the research and extension department of Kisii University, said he learned that grades of the temperate fruit trees can be improved genetically to have species and cultivars that can withstand pests and diseases.
Obel Hesbon, a research assistant and horticultural consultant at Egerton University, department of crops, horticulture and soils, said he cherished the knowledge gained in the course and would share it with farmers.
I'm now aware that we can produce a lot of apples and grapes in Kenya. Sensitizing the farmers about the importance of growing these kinds of fruit trees is what is lacking, he said.
John Cheruiyot, a food technologist at the University of Kabianga, said despite the fact that the production of temperate fruit trees is very expensive, the returns are assured because the demand is so high, so farmers should be encouraged to cultivate them.
Dr Alnold Opiyo, a senior lecturer on horticulture at Egerton University, said Kenya has huge horticultural potential.
We have not even exploited 50 percent of the potential. We should emphasize post-harvest handling of our produce, and improve our infrastructure to have proper storage and swift transportation of the produce, he said.
Dr Opiyo said there is a need to reduce post-harvest loss in Kenya, noting that a third of the fruit harvested in the country is lost at the post-harvest stage. He said there is need for the country to develop its domestic structures. We have paid a lot of attention to the export market at the expense of the domestic market, yet what we export is only about 7 percent of our total production, he said.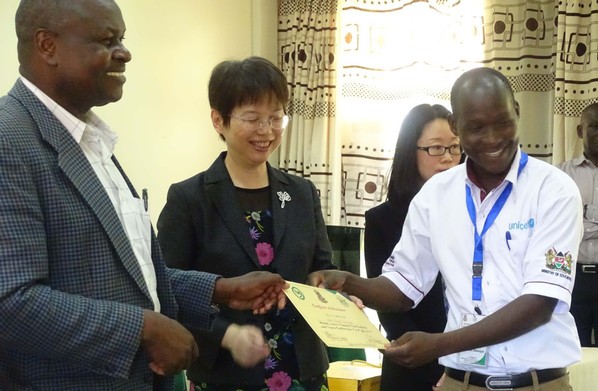 John Cheruiyot (right), food technologist at the University of Kabianga, receives a certificate following the completion of a one-week short course
on temperate fruit production under tropical conditions held at Egerton University in Kenya's Nakuru county on July 5, 2019. [Photo by Edith Mutethya/for China Daily]
LINK: https://www.chinadaily.com.cn/a/201907/10/WS5d25a5d5a3105895c2e7cc57_4.html