On September 20, NAU held an opening convocation ceremony for the international students of the class of 2022.

Vice President Hu Feng extended a warm welcome to students from around the world and expressed the hope that NAU will make them proud. He also encouraged them to cherish the opportunities to study in China, fulfill their academic goals and become ambassadors in cultural exchanges to promote friendship among peoples of the world.
At the ceremony, Hu Feng awarded the Chinese Government Outstanding International Student Scholarship to the Pakistani doctoral candidate Memon Muhammad Sohail.
Two students spoke at the ceremony respectively on behalf of new and existing international students.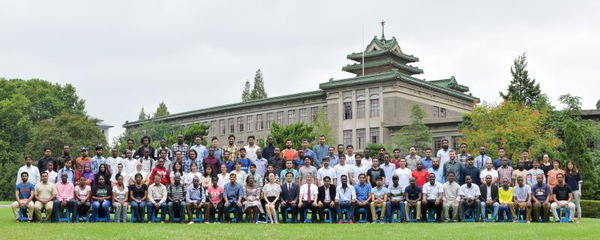 NAU's accelerating internationalization of education in recent years has come with the increasing number and quality of international students seeking an education in our university. In 2018, NAU admitted a total of 137 international students, including 61 doctoral students, 45 master's students, 11 undergraduates and 20 visiting students. They come from 30 countries and territories, including the US, France, Bosnia and Herzegovina, Croatia, Australia, South Korea, Pakistan, Japan, Vietnam, Kenya and Mozambique.
The Chinese Government Outstanding International Student Scholarship is created by the Department of International Cooperation and Exchanges, with an aim to acknowledge and inspire foreign students who are not only conversant with and friendly to China, but are also morally and academically remarkable. It is also designed to expand the coverage and impact of Chinese government scholarships. Memon Muhammad Sohail's advisor is Prof. Ji Changying and his dissertation is titled "Impact Evaluation of Tillage and Straw Incorporation on Soil Physicochemical Properties and Yield through Field Trails, GIS and RS Methods in Rice-wheat Cropping System." Since he was enrolled, Memon Muhammad Sohail has been fully committed to his field of research under the guidance of his advisor and has published 6 SCI/EI-indexed papers as the first author.